Back in June of 2007 it was announced DreamWorks and Universal would be turning the graphic novel "
Cowboys & Aliens
" into a feature film based on the Image Comics graphic novel written by Fred Van Lente and Andrew Foley, which mixes Western and science fiction genres. Set in 1800s Arizona, a skirmish between cowboys and Apaches is interrupted by the crash landing of a space ship. The alien commander plans to tame the Old West and enslave everyone, but the cowboys and Native Americans turn their six-guns against the alien invaders.
Variety
reports Robert Downey Jr. and director Jon Favreau may be teaming once again following the success of "
Iron Man
" last year and the just completed work on "
Iron Man 2
," due in theaters on May 10, 2010.
Downey Jr. has been attached to star in the film for a year now, even if his commitment was wavering at times. Favreau, however, is an entirely new element.
The script was penned by Hawk Ostby and Mark Fergus ("Iron Man" and "
Children of Men
") with "
Star Trek
" and "
Transformers: Revenge of the Fallen
" scribes Alex Kurtzman and Roberto Orci working on a rewrite (they are also listed as producers). Also producing are Imagine Entertainment's Brian Grazer and Ron Howard with Steven Spielberg and Platinum Studios CEO Scott Mitchell Rosenberg. "
Lost
" exec producer Damon Lindeloff is also chipping in with the rewrite following work he put in with Kurtzman and Orci on the script for "
Star Trek 2
."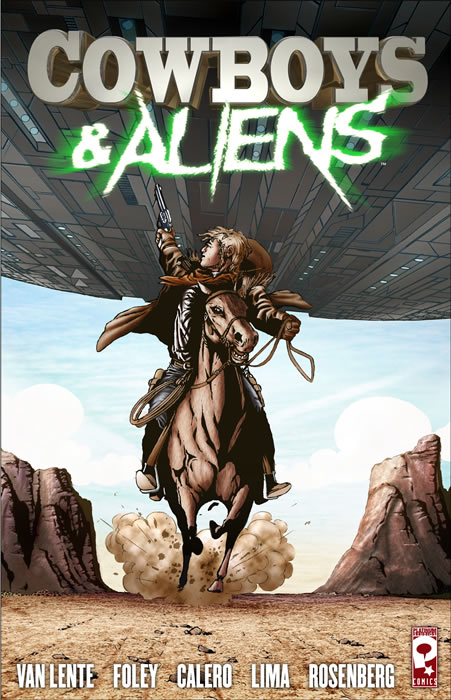 Favreau is currently working post-production on "Iron Man 2" for release next summer. The superhero sequel is the first in a long line of films leading up to the release of "
The Avengers"
in 2012. If Favreau's next directorial gig is "Cowboys and Aliens," then his chances of living up to fans' hopes by directing "The Avengers" might be rather slim considering the proximity of the projects.
More important than Favreau, however, is Robert Downey Jr. himself. The actor has his hands full with multiple franchises including "Iron Man," "
Sherlock Holmes
" and now "Cowboys and Aliens." Although Favreau's work is paramount to "Iron Man" success, Downey Jr.'s role as Tony Stark is an essential ingredient for the on-screen success of "The Avengers."
We should expect the duo to reunite sometime after this film for "
Iron Man 3
," which would serve as the fifth film in the Marvel/Paramount five film deal. Who knows what happens after that for "Iron Man" after
Disney's purchase of Marvel
.
More news to come! Catch ya' later!
Sources:
Rope of Silicon
,
MTV News
,
The Risky Biz Blog