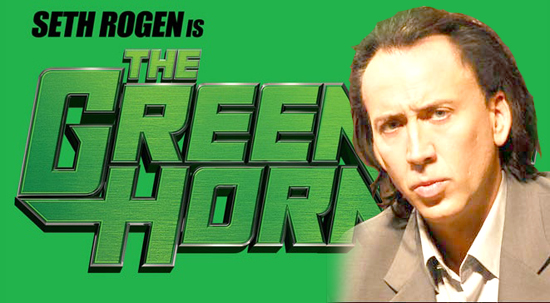 Along with confirming an earlier report that
actress Cameron Diaz is eyeing a role
in the Michel Gondry-directed "
The Green Hornet
,"
Variety
adds that actor Nicolas Cage is in early negotiations to join the cast of the Seth Rogen movie as well.
If the casting pans out, Cage will play a gangster villain (that could well be Mr X, a criminal mastermind introduced in the original radio serial) opposite Rogen's masked crime fighter. The report also notes that Diaz's character is a reporter and love interest for the titular hero.
The 45-year-old actor has been less than impressive in recent films and, rather worryingly, he also wants another go at "
Ghost Rider
."
Seth Rogen co-wrote "Green Hornet" and is to star in it as Daily Sentinel newspaper publisher Britt Reid who, by night, becomes the eponymous masked hero with a sidekick named Kato and a hi-tech car called Black Beauty.
As reported earlier, Cameron Diaz is under consideration to play a reporter and love interest of Britt Reid, while Stephen Chow dropped out of playing Kato.
There's still no word on a replacement for Kato, the martial arts-savvy assistant to the Green Hornet, but
Variety
notes that the production is nevertheless moving full steam ahead towards a fall start date. With Cage and Diaz almost officially on board, it shouldn't be much longer before Rogen finds himself a new sidekick.
"Green Hornet" began as a radio serial in the 1930s and went on to feature in a 60s TV series starring Van Williams and Bruce Lee and also numerous comic books. The new film is set for release by Columbia Pictures on July 9, 2010.
More news to come! Catch ya' later!
Sources:
The Geek Files
,
MTV News