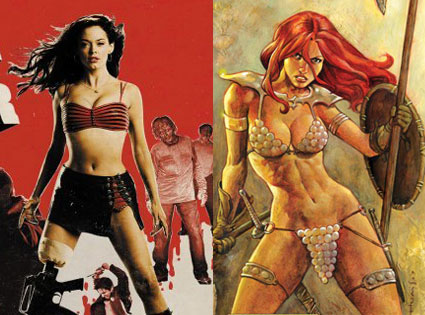 In June,
executive producer Joe Gatta assured us
that the "
Red Sonja
" film project was still alive and said it would be filmed next year.
Rose McGowan was cast in the title role of the Marvel Comics warrior heroine, who began as a secondary character in a "
Conan the Barbarian
" comic and is known as the 'she devil with a sword.'
The film was announced in 2008 and was set to film that year. But then McGowan split up with Robert Rodriguez, who was producing the movie (which will be directed by his long-time associate Douglas Aarniokoski), and the economy took a nosedive. It led to the movie being put on hold.
McGowan, who's since got back together with Rodriguez, has been speaking about her involvement with the project on
her Twitter page
.
She admits she had earlier dropped out of the film for 'personal reasons' - probably her break-up with Rodriguez.
First she explained: "Just this once I'll address questions about 'Red Sonja' & others I was meant to do in 2008. Major personal & private reasons I pulled out. Starting to want to work again. Sometimes real life f***ing sucks. That's all. God bless us survivors."
And then she elaborated: "I am still contracted to do 'Red Sonja.' Hopefully filming in 2010 not 2009.
"To clarify press reports: 'Red Sonja' is delayed. I pulled out of doing it in '09. Not permanently. Hopefully will follow '
Conan
.'"
The new "Red Sonja" film had been intended to go into production before the big-screen "Conan" remake, now being directed by
Marcus Nispel after Brett Ratner was unable to do it.
Hopefully the "Conan" remake will be successful enough to get more production done for "Red Sonja." This film won't be out for another 3-4 years at least.
More news to come! Catch ya' later!
Source:
The Geek Files