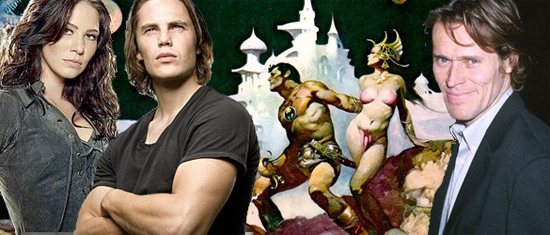 We've known that
Willem Dafoe had been cast
in Andrew Stanton's "
John Carter of Mars
" since July, so that's not the news here today, but the actor talked with both
AICN
and
MTV News
recently and revealed a lot of interesting details about his character and the project.
The story in "John Carter of Mars" centers on a civil war veteran who finds himself mysteriously transported to Mars, where his involvement with warring races of the dying planet force him to rediscover his humanity.
Dafoe will be playing the role of Tars Tarkas, a big green Martian who eventually befriends John Carter (played by Taylor Kitsch) after an unfriendly beginning to their relationship. Tarkas is a warrior and leader of his people and a very unique one at that because he, against the laws and norms of his society, shows compassion and sympathy, and even had a child secretly with the woman he loved (child bearing is a major criminal offense of hispeople) - he actually believes war isn't the answer for his kind.
"John Carter of Mars" is currently scheduled to start shooting next January, so Dafoe doesn't know much about it yet, but he is "very excited" and he has "seen renderings" of his character.
"I've seen a lot of the designs and things, and I've just started to do prep work now… But I'm starting doing [CGI] scans and things like that, but it's going to be a real full-on… Well, I'm nine feet tall with four arms, but, just from the scheduling, I'm going to do the stuff.
"Also, they'll use my face, but they'll enhance it in a way–both after and before–in a way that I may not be recognizable. But, I'm good with that. It's particularly cool, because he's a creature, but he's got this huge range of character. And, he does cool things in the movies."
In the interview with
AICN
, Dafoe was also asked if he had worked out a voice for the martian yet.
"No," Dafoe said, "but there's a whole period where we're going to work with the language and the movement, and find out how I'm going to be nine feet tall, and all that stuff… like, a long period of time where we're going to go to Thark school, you know what I mean? We're going to create our culture. So, it's going to be very cool. These guys know how to do this, and they've got great people. And, the designs and things are just mind-blowing."
Lastly, one area of this project that's been unclear since it was first announced is whether it will be completely CGI or live-action or some hybrid mix of both. Dafoe gave a vague answer to the question.
"Andrew Stanton comes out of Pixar and the amount of research and development that they do on this stuff is incredible. And I'll be involved in part of that," he told
MTV News
.
Stanton previously said that John Carter will be the "perfect definition of a hybrid movie," integrating live-action and computer-based animation in a way similar to what James Cameron has done with his eagerly anticipated "
Avatar
." With Disney and Pixar behind the project and the promise of a series of movies on the same scale of "
Pirates of the Caribbean
," I have high hopes for "John Carter of Mars" and what it will eventually look like on screen.
More news to come! Catch ya' later!
Sources:
Screen Rant
,
First Showing