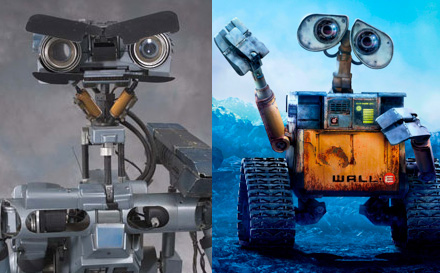 News on the "
Short Circuit
" remake has been dead
the past few months
, so I thought that there might be a chance that it wasn't going to happen.
Sadly the remake/reboot has a director and it doesn't make me anymore excited to see this film.
Variety
reports that Steve Carr, who directed the 2009 surprise hit "
Paul Blart: Mall Cop
," has been chosen to direct the "Short Circuit" remake, but there is no word on when production will begin.
It was announced back in June that Dan Milano ("
Robot Chicken
") would be scripting the film. He plans to give it a "subversive edge" similar to his Adult Swim work.
Variety says what we can expect of the script: "Built by the military to be a highly sophisticated weapon, Johnny 5 develops a conscience and personality after being hit by lightning. He befriends a lonely boy and his fractured family."
So now the remake of the 1986 film will deviate from the original by having Johnny 5 befriend a little boy instead of Ally Sheedy (goth chick from "
The Breakfast Club
").
But why a lonely boy and his fractured family? Why must every family story in Hollywood include a messed up kid and their messed up family? What was wrong with the original story that was a comedy with a love story subplot?
David Foster, producer of the original film and of the remake, told Variety, "We're bringing Number 5 into the 21st Century and taking advantage of the improvements in robotics that are so massive that robots are now performing heart surgeries in hospitals."
So are we getting a CGI Johnny 5 that will wind up being voiced by some celebrity? Contrast that enthusiasm with what Foster thinks about the film "
WALL-E
."
"We think of 'Wall-E' as an extended trailer for our film, because it's the same face," Foster said.
I'm officially off this project. Normally I'd like to be optimistic and say that maybe it has a chance of being fun, but this time I've just got to accept reality.
"No disassemble!"
More news to come! Catch ya' later!
Sources: Cinematical (
1
,
2
),
First Showing
,
Screen Rant
,
Rope of Silicon