Columbia Pictures has announced that 26-year-old actor Andrew Garfield will portray Peter Parker in the currently "
Untitled Spider-Man Reboot
" for director Marc Webb ("
500 Days of Summer
") with a screenplay by James Vanderbilt.
Webb commented in the press release saying, "Though his name may be new to many, those who know this young actor's work understand his extraordinary talents. He has a rare combination of intelligence, wit, and humanity. Mark my words, you will love Andrew Garfield as Peter Parker."
Garfield is an up-and-coming actor probably best known for his role in the "
Red Riding Trilogy
" and a small role in Terry Gilliam's "
The Imaginarium of Doctor Parnassus
," but will become more widely known with roles in David Fincher's "
The Social Network
" and as one of the leads alongside Carey Mulligan and Keira Knightley in Mark Romanek's "
Never Let Me Go
" later this year.
I've never seen any of the films he's been in, but the people behind the project seem to have great faith in him.
"In the end, we all agreed that in addition to being an extraordinary actor, Andrew had the right mix of humor, youth, and pathos, along with an underlying sense of strength and power necessary to bring Peter Parker and Spider-Man to life on screen," said producer Laura Ziskin.
Hard to gripe too much about a guy I don't know - but I was kind of looking forward to Josh Hutcherson landing the role. He's American, 17 and has done way more prominent films. His character from "
Little Manhattan
" is basically Peter Parker as a kid!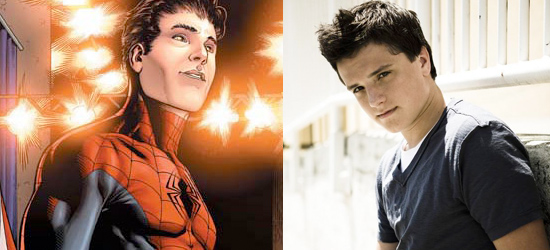 It is a little odd that Marc Webb is choosing a 27 year old when the whole point of this movie, supposedly, is to bring Spidey back to his teen years. And he's British too.
Seeing as how Spider-Man is the ultimate hero in my opinion (judging by the posters in my room and the two Spider-Man comics I have on my bed at this exact moment), I am still uncertain about this whole reboot thing.
It is said Garfield will immediately begin preparing for the coveted role, which is expected to shoot this fall for a July 3, 2012 release which will be shot in 3D.
More news to come! Catch ya' later!
Sources:
UGO Movie Blog
Screen Rant
Latino Review
USA Today
MTV News
The Geek Files
First Showing
Twitter
Rope of Silicon
NY Times