The search is over: Chris Evans has accepted Marvel Studios' offer to play Captain America.
According to both
THR's HeatVision
and
Variety
, Evans is now working out the exact terms of the deal.
The actor will star in "
The First Avenger: Captain America
," which director Joe Johnston starts filming in June ahead of release in July 2011.
He will play sickly soldier Steve Rogers, who is enhanced to the peak of human capability by an experimental serum, becoming the patriotic superhero.
With Evans now the face of Captain America, it will be the fourth live-action movie based on a comic book series in which he's starred. He previously appeared as Johnny Storm in both "
Fantastic Four
" movies, and has prominent roles in both "
The Losers
" (based on the DC/Vertigo series) and "
Scott Pilgrim Vs. The World
" (based on the Oni Press series) later this year.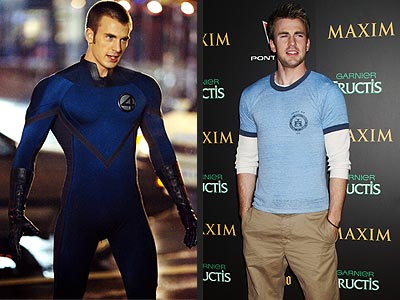 Chris Evans is now a poster boy for the future of Marvel. He's not just a World War II hero, he's the leader of "
The Avengers
" for years to come. The deal Evans has reportedly accepted is a 9-picture contract which sets him up for at least a trilogy of "Captain America" films, a trilogy of "Avengers" films and other appearances in future Marvel projects.
Evans will stand beside Robert Downey Jr.'s "
Iron Man
" and Chris Hemsworth's "
Thor
" in the most ambitious comic book movie ever, come 2012, and it's a joyous time for fans. Let's hope Ed Norton gets up there with them as
Bruce Banner/Hulk
. And maybe
Ant-Man
too…
For me, Evans is a very likable guy and he certainly keeps in shape. My only concern is how he plays the character; I don't want the fast-talking witty comedy relief that we've seen from most of his career so far – We need the classy charming more serious character from Captain America and save the comedy for Roberty Downey Jr. when they meet up.
Now that it's official, what do you think of Chris Evans playing Captain America opposite
Hugo Weaving's Red Skull
?
"The First Avenger: Captain America" is set to hit theaters on July 22, 2011.
More news to come! Catch ya' later!
Sources:
The Geek Files
,
Screen Rant
,
MTV News